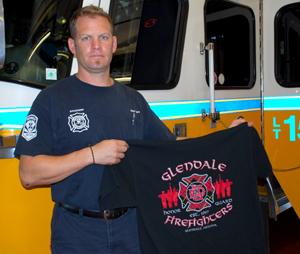 Honor Guard to march in 27th Annual Fire Prevention Day Parade Oct. 3
Fire Engineer Ron Hart displays one of the T-shirts they sell to raise money for the Honor Guard.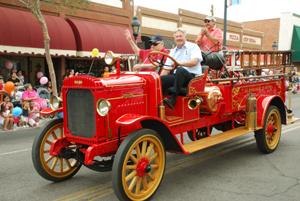 26th Annual Fire Prevention Parade teaches 'prevent home fires'
Capt. Richard Franklin drives an old Nash fire truck in 2008.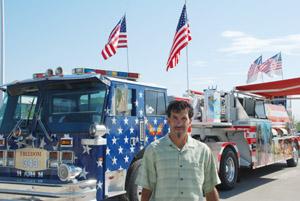 America's hero truck in Saturday fire parade
Tony Boulos stands in front of the freedom truck he spent four years creating. He will be driving it at 10 a.m. Oct. 4 for the second time in the 26th Annual Glendale Fire Parade.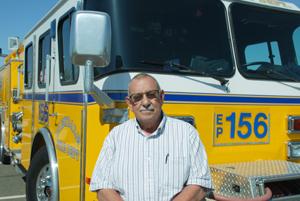 Brunacini Grand Marshal of 26th Annual Fire Parade Oct. 4
Phoenix Fire Chief Alan Brunacini will be the Grand Marshal in the 26th Annual Glendale Fire Parade at 10 a.m. Oct. 4. Brunacini, who spent 48 years with the Phoenix Fire Department, retired two years ago, but still teaches fire command seminars.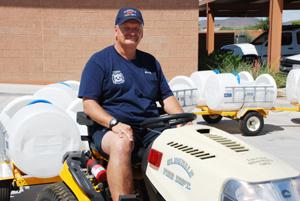 Oct. 4 parade features home-built fire train
Glendale Fire Engineer Byron Ely built a six car fire train that he will ride in the 26th Annual Fire Department Parade beginning at 10 a.m. Oct. 4. The parade will begin at 52nd Avenue and travel westbound on Glendale Avenue ending in Murphy Park.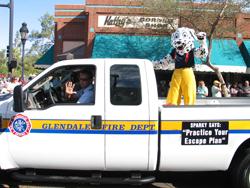 Annual Fire Parade marches through downtown streets
Sparky the fire dog wanted to remind everyone of this week's National Fire Prevention Week's theme, "Practice Your Escape Plan."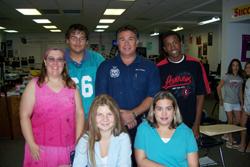 Fire Prevention Day and Parade features 'Junior DJs'
Junior DJs from Sahuaro Ranch Elementary School seventh-grader Courtney Bates-Gushert, and eighth-graders Garett Foster, Isaiah Muhammad Underwood, and Renee Willers, will be a few of the voices the crowd will hear in Murphy Park Saturday following the 24th Annual Fire Prevention Day & Parade in downtown Glendale.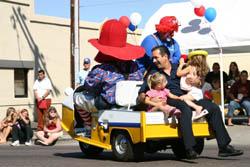 Parade honors city employees who served in Iraq
Fire Chief Mark Burdick at last year's parade.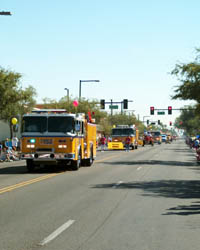 Fire Prevention Day Parade Saturday
The entire family is invited to the annual Fire Prevention Day Parade Saturday in downtown Glendale. Oct. 5 through 11 is National Fire Prevention Week. (Submitted photo)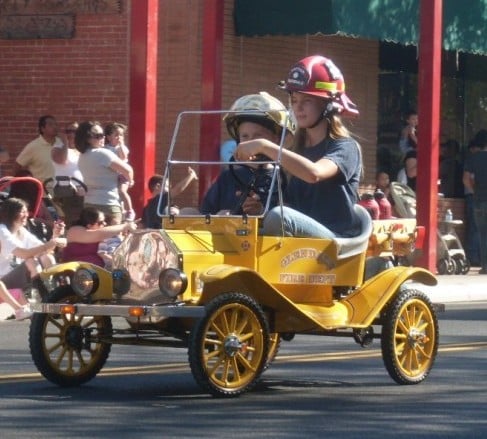 Fire parade antique car
Two youngsters drive an antique fire car Saturday, in the 28th Annual Fire Prevention Parade, hosted by the Glendale Fire Department.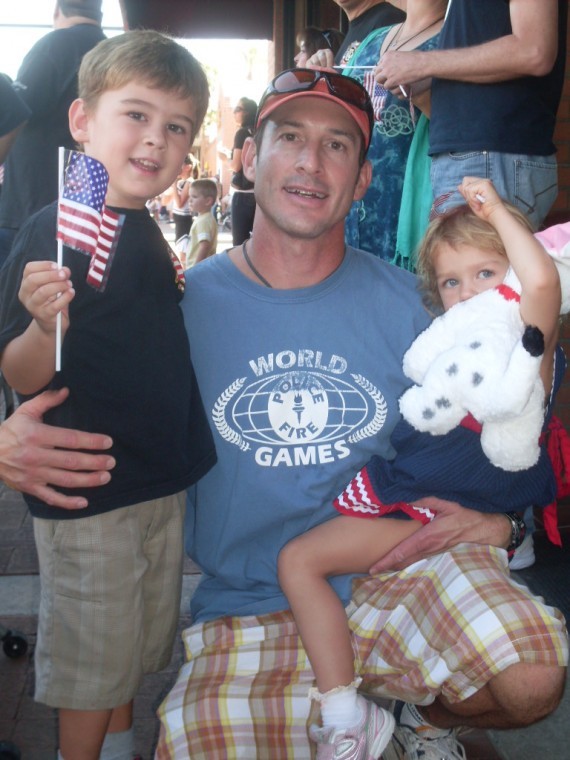 Dad & kids
Roman Barriga enjoys the Fire Prevention Parade Saturday with his children, Luca and Eden, in historic downtown Glendale.