"The first to say thank you for your service in the United States Armed Forces."
That was the theme of the evening and it was repeated over and over again as high school graduates from area schools stood, bowed their heads, listened intently to the "Star Spangled Banner," and walked across the stage to receive a special certificate of appreciation and a challenge coin from Glendale Mayor Jerry Weiers.
The 2017 Inaugural Induction Ceremony, presented by Weiers and Glendale Chamber of Commerce, was a solemn evening of thank you to local high school seniors who now are members of the United States military.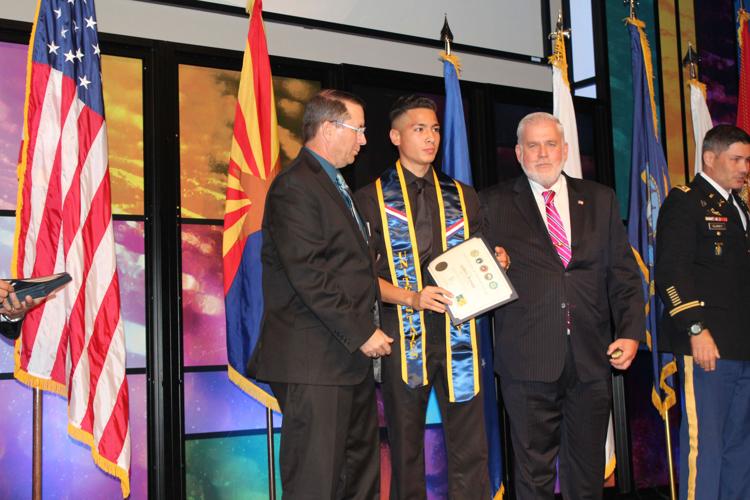 Weiers acknowledged Chris Kelly, a member of the Glendale Chamber of Commerce Veteran and Military Affairs Committee. It was Kelly who planted the seed for the night of celebrating graduating high school seniors for their decision to enlist in the military.
Weiers told the graduates, "Whatever you wind up doing, wherever you end up going, Glendale has your back."
He thanked the military veterans who attended, and the U.S. Marine Corps Old Breed Detachment from Glendale for volunteering their time to help at the celebration.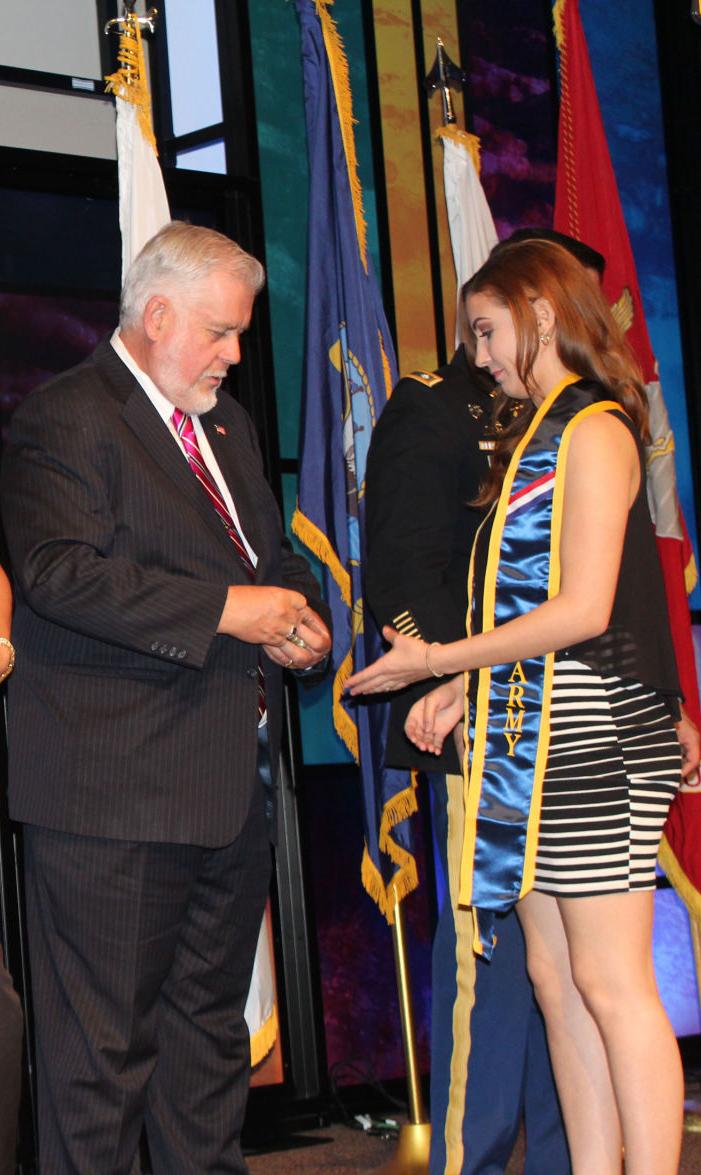 A video presentation featured retired Gen. Colin Powell, who was talking about what makes determines leadership. It was one word: trust.
"Create that spark that gets the mission done," Powell said.
The senior military official for the evening was U.S. Army Lt. Col. David Clukey, commanding officer, U.S, Army Phoenix Recruiting Battalion.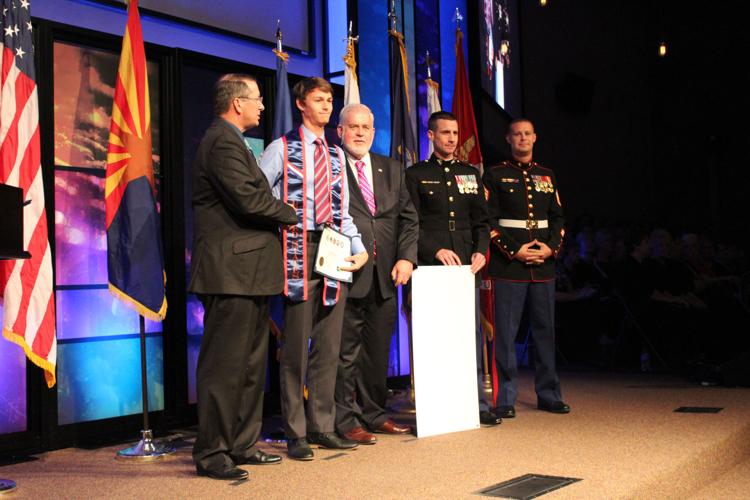 Clukey told the recruits, "You should be proud. More than 70 percent of our youth do not meet the standards; 30 percent because of obesity. Less than 1 percent serves; less than 7 percent have served."
Of significant concern to Clukey and other members of the military is that most people between 17 and 35 are unaware of the military.
"In this room, I see extraordinary opportunities to grow as a leader," Clukey said.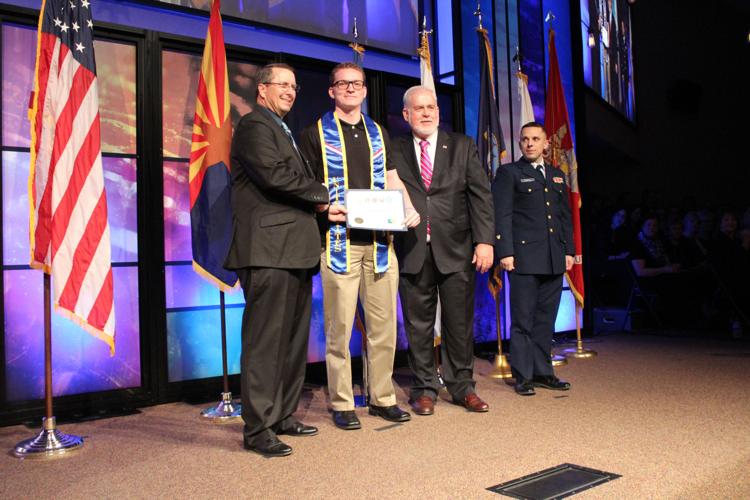 He then joined emcee Jeff Turney, chairman of Glendale Chamber of Commerce Military and Veterans Affairs Committee, and Weiers, as they congratulated all of the Army recruits, then gave them their certificates and challenge coins.
U.S. Marines Corps  Maj. Barret Bradstreet and U.S. Navy  Commander Matthew Beare recruiting commanders for the Phoenix region, followed the same procedure, as well as Command Chief Randall Kwaitkowski of the 56th Fighter Wing, Luke Air Force Base, and Petty Officer First Class Martin Wygan, U.S. Coast Guard Recruiting Office.
There were more than 160 recruits in attendance that night, and all were sworn into their respective military service organizations at the same time by ranking military officer in attendance, Lt. Col. David S. Clukey.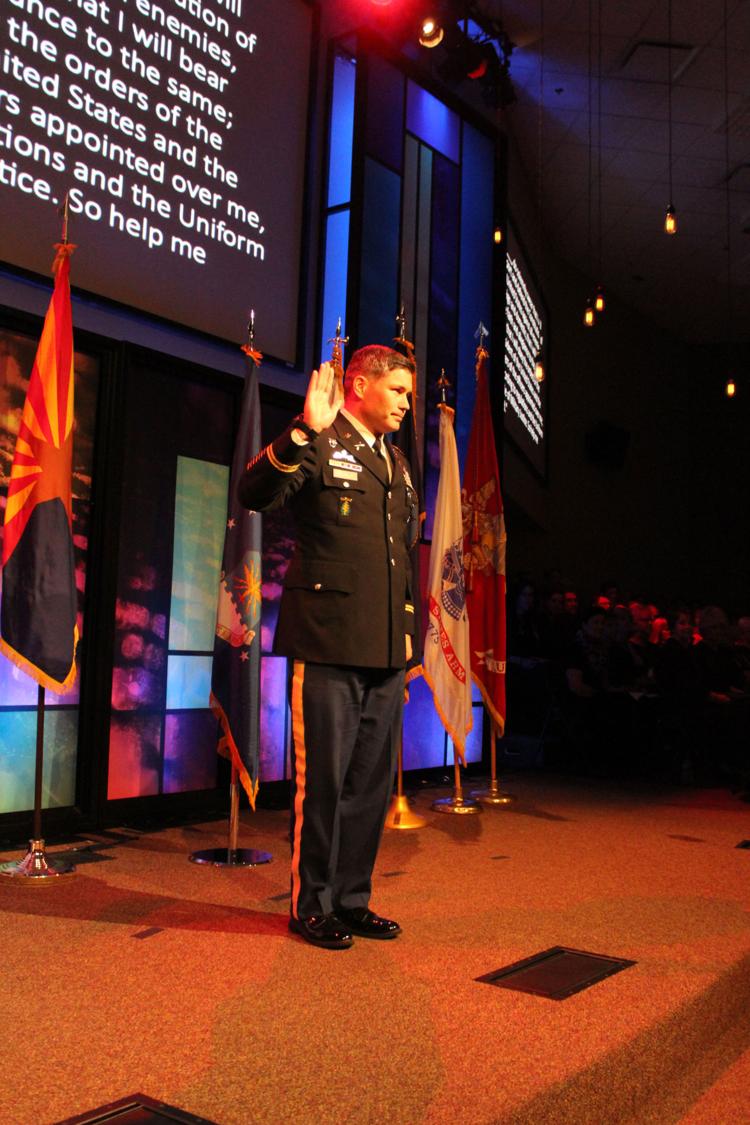 During the evening, the Sounds of the Southwest Singers Community Choir sang "America the Beautiful," "Salute to the U.S. Armed Services," and "God Bless America."