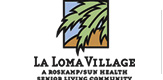 Our Mission

Providing Solutions for Residents & Families! The La Loma Health Care Center is a two-story, 96-bed facility offering residential assisted living, medical assisted living, skilled nu...
Is this your business?
Promote your business through our innovative Marketplace system! It's free to sign up!
Sign up to update your information for free! See options to post blog articles, photos and promote your listing!
Log in & claim
Business ID: 1121994918 | Universal ID: e97e4d7d-5086-563c-a6f3-b2bbd1313b8c