Opening the new season at home and with high hopes for a turnaround season, the Mountain Ridge Mountain Lions' offense struggled early in dropping their home opener 47-7 to Mesa Skyline Aug. 17 at Mountain Ridge High School.
After a back-and-forth first quarter, Skyline erupted for the first 26 points in cruising to victory.
Two minutes into the second quarter, Skyline's Ethan Truesdell rumbled up the middle for a 1-yard run to give the Coyotes a 6-0 lead after the missed extra point.
Four minutes later, the Coyotes added their second touchdown when Aaron Wood broke around the left side for a 2-yard touchdown run to push the lead to 12-0.
The Mountain Ridge offense continued to struggle after their fourth three-and-out forced another punt, which gave Skyline the ball at their own 45-yard line.
Five plays later, Wood broke three tackles and raced around the right side and 14 yards into the end zone and the extra point extended their lead to 19-0 at halftime.
Skyline's defense held the Mountain Lions offense in check, allowing only 117 total yards while holding them out of the end zone until midway through the third quarter.
The Coyotes took advantage of five Mountain Ridge turnovers as they cruised to victory by totaling more than 400 yards total offense as they dominated on both sides of the ball.
Leading 26-0, Skyline was driving again when the Mountain Ridge defense forced a fumble and recovered it at the Coyotes 30-yard line.
After a loss of five on first down, Alex Hames dropped back and lofted a 35-yard touchdown pass to Preston Miller to get the Mountain Lions on the board.
Hames completed five of 11 passes for 73 yards and a touchdown after taking over for Matthew Cookman who was pulled after throwing four interceptions.
Mountain Ridge (0-1) travels to Tempe Corona del Sol (0-1) Aug. 24.
Apollo 48, Scottsdale Desert Mountain 41
After trailing at the end of the first quarter, the Hawks pounded out 28 second quarter points, then held off a fourth quarter Desert Mountain rally for a 48-41 victory at Scottsdale Desert Mountain high school.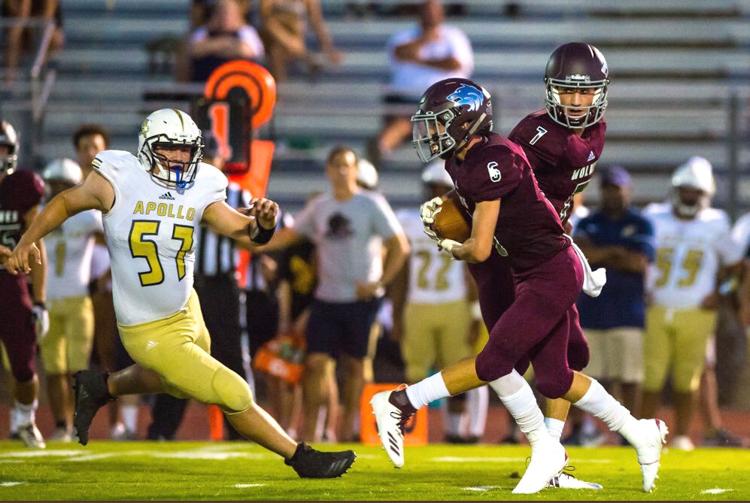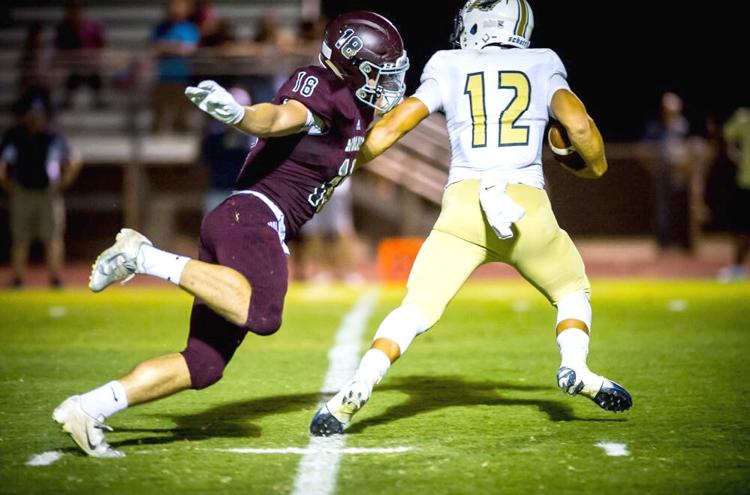 Apollo was led by running back Ali Mohamed who rushed for 256 yards and four touchdowns, along with adding a receiving touchdown in the victory.
Apollo (1-0) will host its first home game of the season at 7 p.m. Aug. 24 against Queen Creek Casteel (0-1) at Apollo High School.