There was excitement in the room as parents and student athletes sat in the cafeteria of Glendale Union High School. It was time to go over the details of what has been the most successful football season in a decade. At 8-2, it was the first time the GHS Cardinal Varsity football team had an eight-win season in 30 years.
Coach Rob York said last year, the team had 11 all-region award winners. "This year," he said, "we had 19. Just tremendous growth."
York thanked all of the coaches, families and school administration for their support. He acknowledged teachers for good communication with him and his staff. He also told the athletes the coaching staff realized how hard they worked "and it showed this year." York said Councilmember Jamie Aldama has donated money to the program every year.
"He donated for summer camp and helped us with community outreach," York said.
In the mix were two outstanding players – a freshman and a varsity team player. Jesus Zayas won the Freshman Spark Plug award.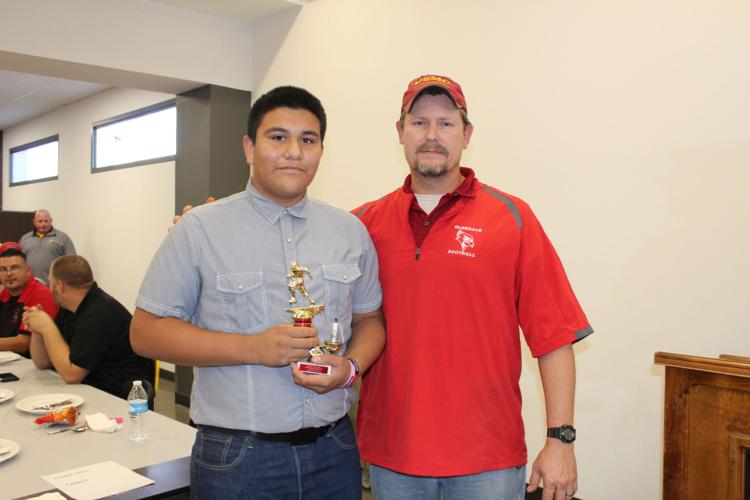 Freshman coach Dave Isham described Zayas as "one of the hardest workers, he's great in the classroom, coachable, no issues. He's never missed a practice, did extra programs, early at practice, never late. He's one of the first ones to the lines, picking everybody up. He's a motivator and leader, has no complaints, helps others."
The Varsity Spark Plug award went to David Jimenez.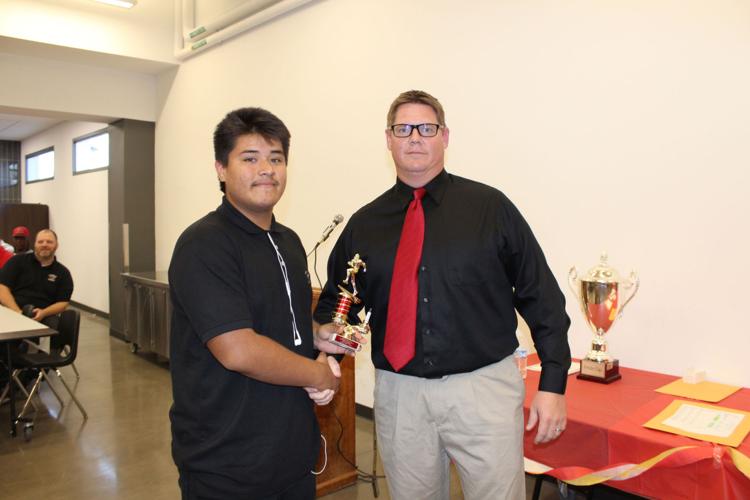 York said Jimenez had "zero grade issues. He always did what you asked him to do."
Rick Swearingen, a coach for more than 30 years, was the guest speaker, and he went right to the message and told the athletes how grateful he was to be a guest at their awards banquet.
Swearingen was born here, he said, the oldest of four children raised by a single mom. He became very emotional when he said he was the first to go to college and the first to graduate from college.
His first love was to become a lawyer, he said, but that changed during college, and he became a high school girls basketball coach at North High School. It was not a good first season.
"Humiliation, to me, was 98-4," Swearingen said. "Three years later, we made the state playoffs."
Then, he imparted some advice to the young men in the cafeteria:
"No. 1, be a good person, no matter where you are; No. 2, be a dedicated student; No. 3, get involved after you leave here; get involved somewhere."
He told the athletes, "You are on the verge of something special here."
Swearingen knows what it is like to have a special season; he had a 32-0 record at South Mountain High School.
Aldama, a graduate, whose children also attended Glendale High School, congratulated the freshman and varsity teams for their successful seasons (freshman record was 5-3). He gave credit to parents for supporting their children just by being in the stands to watch the athletes compete.
Looking to the athletes, Aldama said, "After the game, you look to your parents, what you cared about was in the stands. I'm telling from experience; that's what my son tells me.
"Thank you, parents, for supporting your children. My applause to you."
Turning to York, Aldama said he had nothing but praise for him for staying at Glendale High School, calling the school "the most challenged demographic for any program."
York was named the Union Region 5A Coach of the Year.
Not to be outdone, the athletes had an award of their own to hand out. They presented GHS Football Booster Club President Krista Howes with a dozen roses and a certificate of appreciation.