Mountain Ridge high school student Haley Briner took a cue from her father for a once-in-a-lifetime opportunity and was accepted and recently returned from a week at the Honeywell Leadership Challenge Academy.
"This was something I would not have even applied for if it wasn't for my dad," Haley said. "He just recommended it and, after thinking about it for a week, I applied and was accepted. It was just an amazing experience and I am thankful for the opportunity."
Her father, who works at Honeywell, noticed the application for the program and told Haley, who was hesitant at first.
"I told her about it and actually, just let her decide if she wanted to apply," Ben Briner said.
"The program is not directly in science, which I am really interested in and want to study in college, but I thought it sounded interesting (and) took a chance," Haley said.
"It is a program through Honeywell for employees and family members, and I told her to apply and she did and got accepted," her father said.
Honeywell developed the academy, in conjunction with the United States Space and Rocket Center (USSRC) in Huntsville, Ala., which uses interactive technology and science-oriented workshops to teach high school students leadership skills in science, technology, engineering and math, or STEM, to address education needs around the world.
The academy introduces them to the legacy of the American Space Program where they concentrate on addressing current issues within the science and technology community.
When applying for the camp, Haley had to verify her grades from school, as well as get a letter of recommendation from her counselor. She also had to present a resume showcasing her volunteer activities. Haley is a member of the Mountain Ridge High School National Honor Society and the National Charity League Arrowhead Chapter, and she spent last summer volunteering at the Arizona Science Center in Phoenix.
She was one of 325 students from 35 countries and 25 states and territories who was selected for the camp and her father said it has changed his daughter immensely.
"When she was there, I think two days in, she would call home and the way she was speaking, she sounded like a grown up," he said. "It was an amazing change because I dropped off this scared little girl at the airport, and to hear this grown up on the phone, I couldn't have been more proud of her."
Candidates got the opportunity to meet NASA scientists, engineers and former astronauts. They also designed, built and tested their own rockets. New this year was the chance to develop computer programs to calculate their rockets' altitude and velocity. Students were also given the opportunity to participate in actual training simulations, such as shuttle missions and a moon walk.
Haley was most proud of the fact she was part of a team that invented a program for an actual rocket flight, she said.
"One of the best things I did was actual programming a (Python 2 or 3) program that programmed a simple computer called a Raspberry," Haley said. "We programmed a device that measured the altitude, height and velocity of a rocket we built later in the program. It was an amazing experience."
Haley said her personal highlight was toward the end of the camp when she and her group of students got to run a simulated flight mission. They were required to plan an actual mission simulating an attack on an enemy.
"We planned our mission and I actually got to fly in the simulator, an F-18, and run an actual mission," Haley said. "Our mission was to target bases and take them out, and it was pretty cool."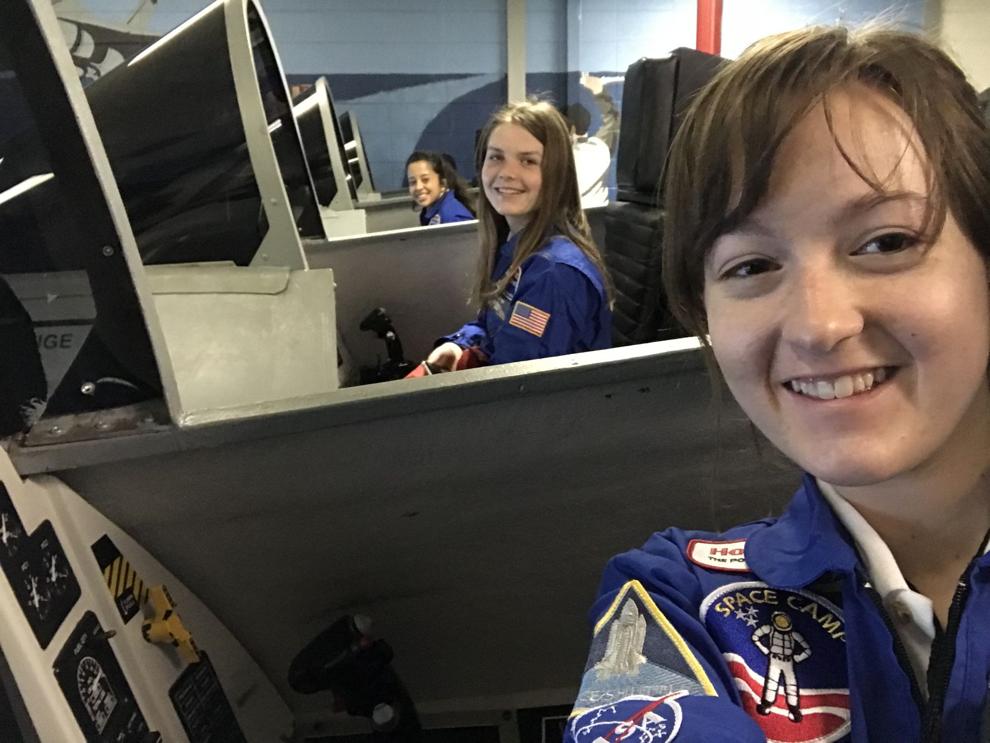 While she is unsure what her and her team's final score was on the simulator, she said she feels like she did a great job.
"It was cool and I didn't crash, so I have that," Haley said. "I actually hit a couple of bases, but didn't get any actual in-flight hits, so I don't know."
Haley, who has a 4.6 weighted GPA, has been accepted to the University of Arizona in Tucson and Arizona State University in Tempe, but is waiting to make a final decision on where she will attend college. She is planning to major in genetic biology, but after attending the camp, is considering more.
"I love biology and genetics, but after doing everything at the camp, I know I can do even more," Haley said. "This has opened my eyes, and now I know I can do so much more and am excited about the future even more."
Haley also added she has noticed she is using things she learned during her week at the camp.
"When I got home, I had a major presentation at school, and while doing it, I was more comfortable than I had ever been doing a presentation," Haley said. "The section on public speaking at camp, I found myself using everything they had taught me during the camp and I am a lot more confident in my speaking."
She said she misses the people she met and the friends she hopes to have for life.
"It gave me much more confidence, from the speaking to meeting new people," Haley said. "We have started a group chat and are keeping in touch and it is an amazing feeling to know that I know people from around the world. I got a lot from them during our time together and I am grateful for the amazing opportunity that I had."