Not many people can say they still keep in touch with their best friend from kindergarten.
Ben Butler and Del Kyger have not only stayed friends since their first day of school, but they also work right next door to each other.
Butler has been practicing dentistry at 5406 W. Glenn Drive, Suite 2, for 26 years. Kyger opened an orthodontics practice in Suite 5 in March and divides his time between Glendale and Oro Valley where his other office is located.
Their friendship began in the early '70s as they were both standing in line with their mothers waiting to enter their kindergarten classroom at Sevilla Elementary School in Phoenix.
"First day of kindergarten, we were at Sevilla School in the Alhambra District. We were kind of new to town," Kyger said, explaining his family had recently moved to the Valley from Illinois. "And we're standing in line with our mothers waiting to enter our kindergarten classroom and there was this kid standing in front of me that was crying, and my mom is a retired school psychologist and she said, 'Now Del, I think it's important that, obviously this little boy is having a tough day, that you should befriend him and be nice to him.' So she introduced herself to Ben's mom, Judy, and we've been friends ever since."
Butler was a classic first-born child with separation anxiety, and Kyger was a second child, so it was old hat to him, Butler said.
"So his mom kind of put us together and he was sort of my kind of friend to help me," Butler said.
The two attended kindergarten through second grade together, and then Butler and his family moved to Peoria, where he attended third grade through high school, he said.
"But we remained friends in that third through sixth grade," Butler said. "He was in Phoenix, I was in Peoria. Our parents seemed to like the friendship, so they facilitated sleepovers, we went to camp two years. The summer after third grade, we went to camp, and the summer after sixth grade, we went to camp together — YMCA camp up in Prescott. So the friendship was maintained even though there was a distance."
After sixth grade, the Kyger family moved to Tucson where he remained through high school.
"We continued that friendship even in two different cities," Butler said.
Their parents would drive them to the bus depot and put them on a Greyhound bus so that they could visit each other, Kyger said.
"I'd come up here and spend the weekend, or a whole week in the summer, and Ben would do the same thing and come down to Tucson," Kyger said. "So we learned all the Greyhound bus stops between Phoenix and Tucson."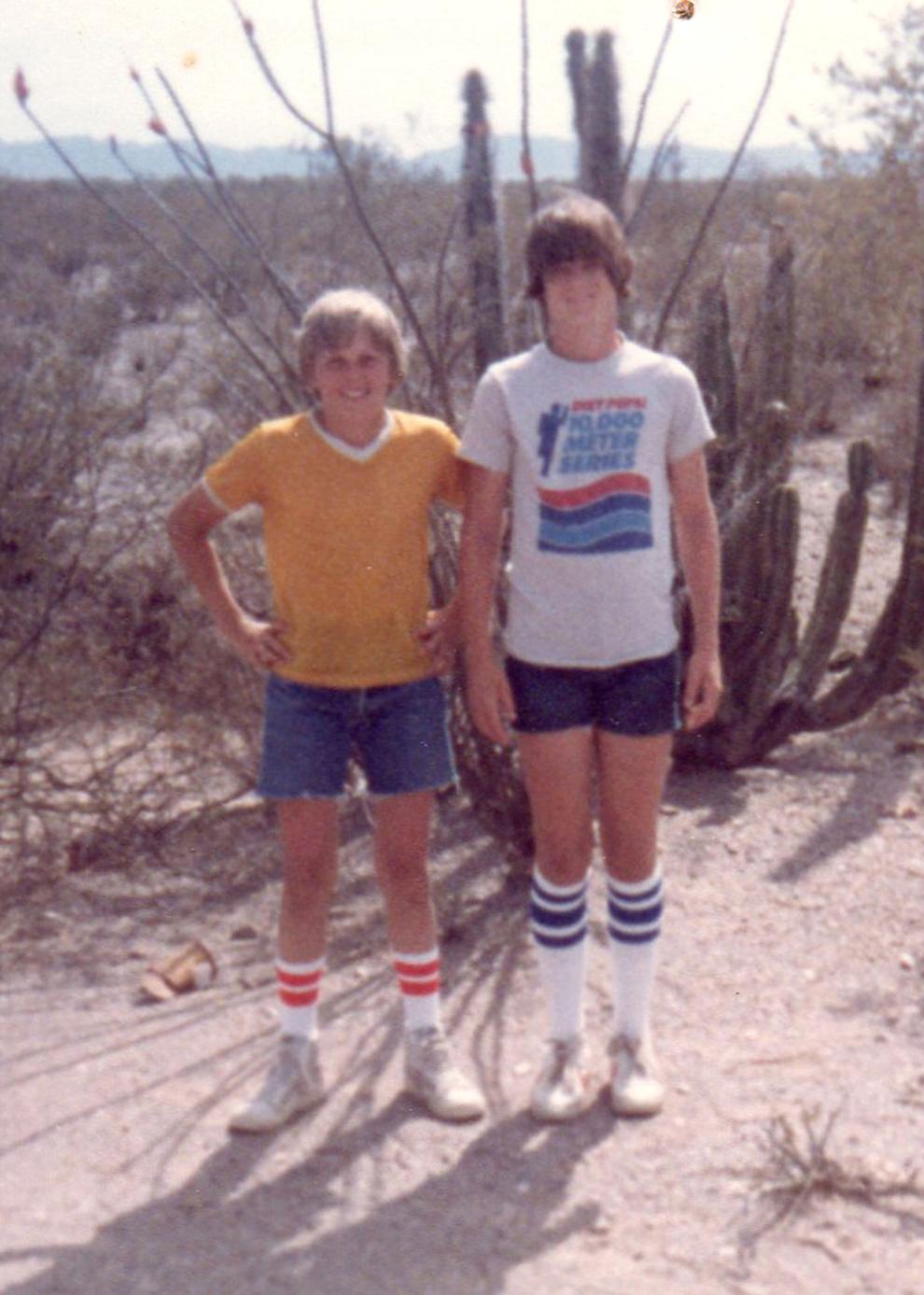 After high school, they roomed together at the University of Arizona in Tucson, where Butler spent just three years before being accepted to dental school at the University of California, San Francisco.
"I actually got in without a degree after our junior year," Butler said. "I was focused. I'll admit, I've always been laser focused."
Kyger followed a year later, something they said worked out to their advantage as UCSF only accepted a small number of out-of-state students, so by staggering their start dates, they weren't competing with each other for a spot.
Butler graduated in 1992 and went to work with his father, Nelson Butler, at the Glenn Drive location. Nelson worked up until the day he was diagnosed with cancer last year, Butler said. He died just six weeks later at the age of 75.
Kyger specialized in orthodontics, and completed his residency at UCSF before returning to Arizona in 1996. After he graduated, he practiced in Chandler, as well as Oro Valley.
His current office on Glenn Drive is the former office of retired orthodontist Matt O. Hanhila Jr., who goes by Mo. The Hanhila name is a staple in Glendale as Mo practiced for years at the Glenn Drive location, and his father, Matt O. Hanhila Sr., was the executive dean at Glendale Community College as well as the namesake for GCC's stadium, Matt O. Hanhila Field, on the corner of 63rd Avenue and Via Gaucho.
Hanhila Jr. and Butler's father were classmates at the University of Southern California, Butler said.
"So they were best friends at the USC together, came back here, Mo started an orthodontic practice here, my dad started a dentist practice here," Butler said. "Del's come in here, so it's kind of unique that my dad and Mo, a generation before, went to dental school together, best friends, practiced side by side, now Del's kind of taken over for Mo here."
Butler said Kyger's style is similar to Hanhila Jr.'s.
"Just his dealing with patients, it's a more personalized one on one, rather than a large production type of style," Butler said. "I think Del will fit in well in this community and with my patients. My patients miss having Mo Hanhila here."
Kyger said he has known and looked up to Hanhila Jr. most of his life.
"When we were kids, (Ben's) dad would take us over to his dental office all the time, and obviously, Mo was here, and so I've been in one form or another, hanging around this building probably since I was 6 years old," Kyger said. "I've known (Mo) through the Butlers practically my whole life. He's been an orthodontic mentor of mine for 21 years, so it's nice to kind of carry on the tradition at this location."
To learn more about Del Kyger Orthodontics, visit kygerorthodontics.com. To learn more about Butler Family Dental, visit butlerfamilydentalaz.com.