Question: What plant has a Spanish name that translates into "rose sucker"; attracts hummingbirds; and produces red, yellow or orange, trumpet-shaped flowers that taste like cucumber?
Answer: The chuparosa, of course.
That and many other edible plants can be found in the newly installed Desert Food Forest at the Glendale Main Library.
The food forest, which was planted the last week in March, was made possible through a grant from the Arizona Department of Forestry and Fire Management.
"We really got a lot out of this grant," said Joanne Toms, Glendale environmental program administrator.
The $10,000 matching grant paid for the design and installation of the food forest, as well as several classes at all three of the city's public libraries.
The food forest can be found just south of the visitor parking lot at the Main Library on the corner of 59th Avenue and Brown Street.
It contains prickly pear cactus, pineapple guava, agave, amaranth, purslane and chuparosa, just to name a few. They are all low-water-use plants that are edible.
"This is a resilient landscape, so if we had to reduce the supplemental irrigation, once that landscape's established, it should survive," Toms said.
Creating desert food forests is a movement that started south of the Valley and is making its way north, said Anne Stahley, Glendale water conservation specialist.
"There's definitely momentum there with the interest in the Valley, and especially down in Tucson, for folks to grow desert food forests," Stahley said. "There is a growing interest up here, in Maricopa County, for people to grow their own desert food forests."
To aid in that interest, "Eat Your Yard" programs, which were also funded by the grant, were held last summer at the Main Library, the Foothills Branch Library and the Velma Teague Branch Library.
"One of the things that we also wanted to do was to provide information to the public," Stahley said. "Since I lead our youth education program, we already have a really strong partnership with the community services department that the libraries are niched under and they have summer youth reading programs that they do every year, and normally it's really hard for them to pay to bring programs to the libraries. So we have this grant, and what we did was we ended up putting together an event called 'Taste Your Yard.'"
The program included taste-testing demos where attendees got to see desert plants up close, taste foods made from the plants and then vote on their favorites.
"We brought in the Great Arizona Puppet Theater, because we're big on youth education, and that's also a way to hook parents, because there's that hard demographic, which is like 30 to 45, to just have them come because they're taking care of their kids," Toms said. "So we did puppet shows, and before the puppet show, we had the "Taste Your Yard" program at each of the public libraries. It was just really popular."
An adult class led by Linking Edible Arizona Forests Network was also held in the spring and fall.
"It was really well received," Toms said. "We had 80-some people."
Plenty of the attendees were repeat visitors to the libraries' desert gardening classes, Stahley said.
"Normally, in the adult education, we'll offer vegetable-related gardening classes," she said. "And we got to see that some of the same attendees that were coming to our vegetable gardening classes were coming to this class because they were also pretty conscious about learning some of the lower-water-use edible plants that they could be growing in the landscape at home."
While food forests provide nutritious edibles, they also improve air and storm water quality, Toms said.
"It's capturing as much rainwater as possible before it then moves into the parking lot where it then picks up antifreeze," Toms said. "Rain gardens in general, it's safe to say, help mitigate storm water pollution. Because it's capturing (rainwater) in its little basins, it's hopefully holding as much rainwater as possible, so less is flipping over into the parking lot where it's then picking up antifreeze and copper from brake dust."
Toms stressed the importance of educating oneself on desert fare to avoid becoming sick from eating the wrong plant or eating a plant at the wrong time. She cited the prickly pear cactus fruit as an example of something that must be consumed at the right time, explaining that it must be mature and "almost blood red" in color when eaten or it could cause illness. Stahley pointed out that mesquite beans, which can be ground into flour, must be harvested when dry or they could contain mold.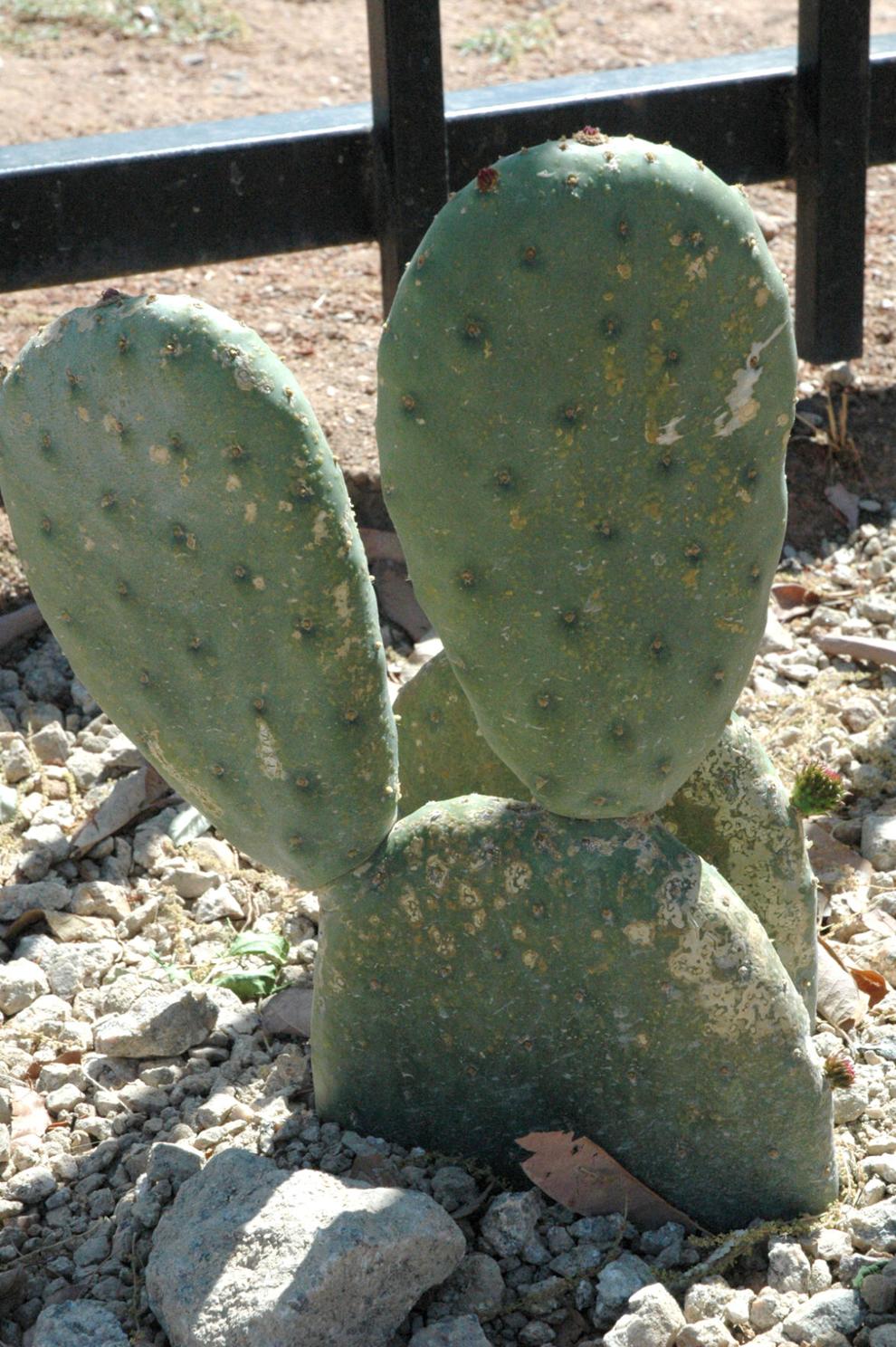 "You don't want to misidentify something, so the best thing to do is come to one of our classes," Toms said. "Now that that garden is established, we'll have that class more frequently with the desert edibles because that seems to be kind of a trending topic. So definitely, we don't recommend that you go out and just experiment (in the desert)."