Before committing to Arizona State, point guard Promise Amukamara played at nearby Apollo High School in Glendale. Before she graduated, Amukamara collected many awards and honorable mentions.
She was named to Parade Magazine's 35th annual All-America High School Girls' Basketball Team, was named an Honorable Mention All-American by the WBCA and she helped lead Apollo to the 2011 4A-I Arizona state championship her senior year, to name a few.
"I remember when I was in high school, I received a really amazing opportunity to represent my country by playing for the Nigerian National Team, when I was a senior," Amukamara said.
Amukamara committed to ASU in the fall 2011, where she continued to excel and improve on the court.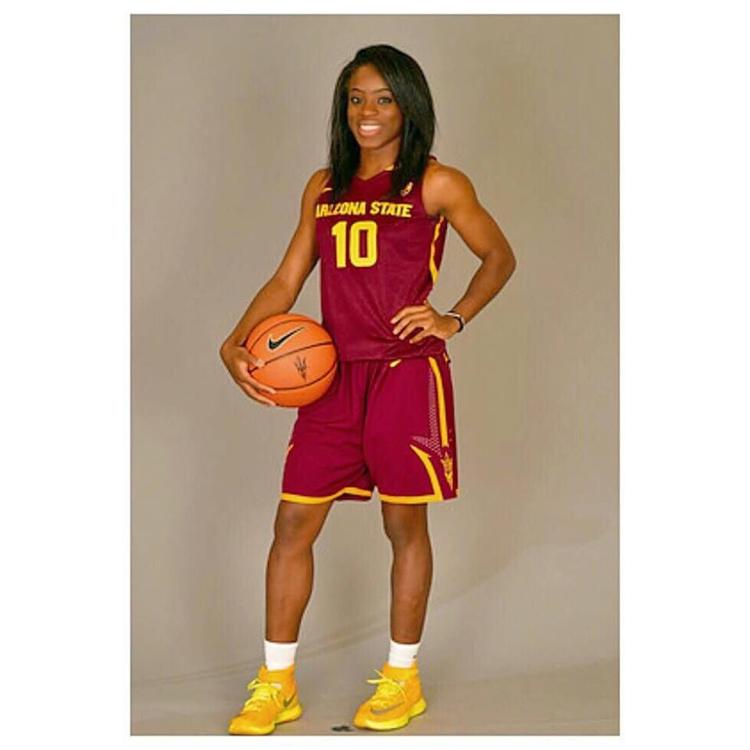 "I owe most of it to my ASU head coach; she has helped me improve so much as a player and has been most influential to my athletic career," Amukamara said. "Without her, I would not have been the basketball player I am today."
During Amukamara's freshman season opener at ASU, she helped lead the Sun Devils to victory. She scored six points and collected three rebounds against UC Riverside.
Amukamara also played in all 32 of ASU's contests, finished as the team leader in field goal percentage (.439) and was 89 percent from the free throw line (24-of-27) over the last 16 games of her freshman season.
During Promise's senior year on the ASU women's basketball team, her sister, Peace Amukamara, joined her. Peace played at Mesa Community College before transferring to the Sun Devils.
"It was a blessing to have the opportunity to play alongside my sister, Peace, for one year in college," Promise said. "I was very happy for her to receive the opportunity to experience what it's like to play on a Division I basketball team, especially in the Pac-12 Conference."
Peace called the experience of playing with her sister at Arizona State "amazing."
"It was a once-in-a-lifetime opportunity; I would do it all over again and not think twice about it," Peace said.
Promise went on to finish her career at ASU, averaging 11.2 points and 3.9 rebounds. She finished seventh in Pac-12 steals and shot 47.7 percent from the field.
Promise was "Miss Irrelevant" in the 2015 WNBA draft. The Phoenix Mercury selected Amukamara in the third round at No. 36. She was the last pick of the draft.
"When I got the call that I was going to be drafted to the Phoenix Mercury, I was so excited, words couldn't describe my emotions. I was getting a little nervous when I was watching the draft that day, because I was not seeing my name, but was instantly happy when my name was called at the end," Promise said.
The Phoenix Mercury released Amukamara May 28, 2015.
"One of my athletic achievements that I am most proud of would have to be getting drafted to the WNBA," Amukamara said. "Being able to play professional basketball is something I always dreamed of doing, so getting the opportunity to do it was unreal."
After being released from the Mercury, Promise was contacted by staff of the Nigerian National Team.
"For a couple of months, they reached out to me and asked if I wanted to play on their senior national team to qualify for the Olympics, and I said yes. So I flew out to Nigeria in May 2016 and trained with the team there for about two weeks. Unfortunately, we fell short and did not qualify to go to Rio," Amukamara said. "After that, they asked me if I would like to join the national team as a member on the roster, and I have been here ever since."
"It is a huge adjustment, being away from family and friends. Also being in a different time zone is weird," Amukamara said. "The style of play overseas is slightly different from the states, as well, as are some of the rules. My teammates and coaches were cool, but it was kind of difficult communication-wise, because they spoke little English and I knew only a little Spanish."
Playing for the Nigerian National Team of her country means a lot to Promise and her family.
"To represent her country on a national stage has been a lifelong goal for Promise," said her father, Romanus Amukamara. "My family feels humbled by the decision of the Nigerian National Team to select my daughter as a player for their team. This joy will last for a long time in my heart and that of my family."